The Journal
By Ernest Metzger on Tuesday, October 28 2014, 21:38 - About - Permalink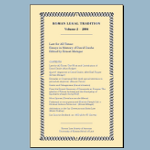 Roman Legal Tradition is a peer-reviewed journal published online by the Ames Foundation and the University of Glasgow School of Law. The journal aims to promote the study of the civilian tradition in English. The editors welcome contributions on any aspect of the civilian tradition in ancient, medieval, and modern law.
The journal has been published continually since 2002. It began as a print journal, published every other year in print by the Roman Law Society of America, under ISSN 1551-1375. In 2008 it began publishing annually and online.
Open access
The editors decided early that the contents of the journal should be available freely to readers. There has always been a special urgency to publish materials on the civilian tradition for English-language readers, and any limits that diminish the readership should be avoided. Accordingly articles published in the journal are broadly "owned" by their authors, who grant readers the right to download and distribute widely.
ISSN 1943-6483.